I have been very lax the last few months to take pictures on my surgiversary...shame on me as I wanted to lay down in film the actual progress, but anywho here they are. I've enclosed my pre-surgery pic also, since alot of the new readers never "saw" me before.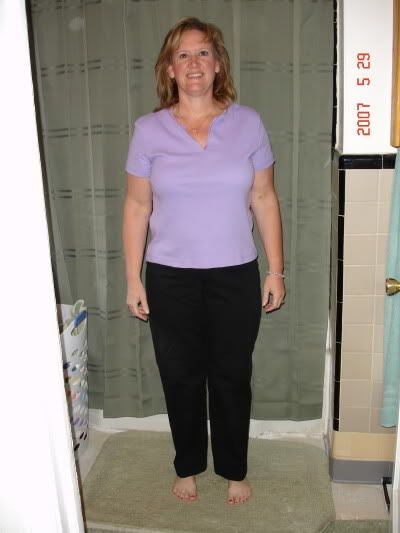 Obviously you can tell which is which...or at least I hope you can. So 80lbs and alot of personal growth later I am starting to feel like I am getting my life back on track. Now I'm sure there is plenty of room for more growth both emotionally and physically, but that is my journey and why I am here. My labs came back great, a little high on the B12 but other than that everything else was perfect....I go back in three months, then after that three months and I'll be a year out. I'm still amazed how quickly this six months has gone by. It seems like yesterday I was crawling into bed after being released from the hospital and sleeping the afternoon away!!
Tonight is session 2 with the therapist, no dh support in that arena at all, in fact he won't even talk about it. There is so much to discuss we ran out of time last week. I was hoping after this great weekend things would change, but I think maybe not. Who knows. I'm going end of story. It may or may not become his loss at some point and that's what I told him this a.m. walking out the door.
I'm glad it's Wednesday also, this week cannot end soon enough for me at this point. I have alot of yard work to get done this weekend and am planning on it!! We are also doing a 5k this Sat morning to benefit one of my friends sons, who suffers from MD and is now at 11years old wheelchair bound. It's a debilitating disease that I rarely hear of. The benefit is help curb the cost of a new van for them to have converted to accomodate his wheelchair. Right now my friend actually lifts him in and out of her Expedition to and from school, doc's and whereever she needs to go. It's quite a strain on her physically and emotionally. I hope they are able to make enough to at least get the van....
Friday night is ladies night out, I love ladies night out!! We are going to celebrate a birthday with one of best girls, Cher!! Happy Birthday to you chickie!! It should be a fun night. Of course dh is pissed because it doesn't include him. Um, hello, when you are out with your drinking buddies I don't piss and moan and try to crash the party. It's not like we won't see each other at all either!! What a guy, seems anymore he's never happy.
Ok enough scoffing from me...
enjoy