WOW it's been a short bit since I've last been in here. I have had a running weekend and hoping things will slow down a bit shortly, as I've got to catch my breath. I did get my hair done Sat which was the highlight of my weekend, new color and cut and I'm very happy with it, it's so different than before...see below
old style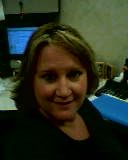 new style
but unfortunately as always the blond starts bleeding through very soon. The football games were both a loss for this weekend, Friday night was cold and windy and yesterday was warm and sunny. However, Nick did play well in Monday's game. GO NICK!!!
Work has been hectic and with me missing pieces of time here and there, well I should be working and not blogging....giggle
So that's it for me right now..
me